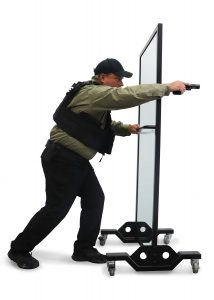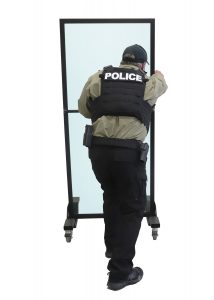 Unparalleled Bullet Resistance
At SafeWood Designs, we are proud to introduce our newest product, the ballistic Mobile Safe Shield. Designed to provide enhanced security, this innovative solution offers complete customization to suit any environment. From frame paint colors to bullet resistant materials (glass, white board, tack board, veneer, or plastic laminate), you have the freedom to create a shield that matches your unique style and security needs. The Mobile Safe Shield offers bullet resistant options in UL752 Levels 1-8. With the Mobile Safe Shield, you can ensure the safety of your space without compromising on aesthetics or functionality.
Aesthetically Pleasing and Non-Threatening
At SafeWood Designs, we understand the importance of integrating security seamlessly into your environment. Unlike traditional security measures, the Mobile Safe Shield is designed to be an attractive and non-threatening addition to any interior application. With its sleek and modern design, it seamlessly blends into any environment, providing a discreet yet effective security solution. Say goodbye to bulky and intimidating barriers and welcome a new era of security that prioritizes both safety and aesthetics.
Easy Maneuverability for Quick Response
Designed for your convenience, the Mobile Safe Shield allows for one or two-handed maneuverability, ensuring swift and easy deployment of defensive weapons. With its user-friendly features, you can rely on this efficient solution to provide you with rapid response capabilities in critical situations.
Heavy Duty Construction for Unparalleled Mobility
Built with a heavy-duty steel frame and handlebar, the ballistic Mobile Safe Shield guarantees durability and reliability. The easy-glide castor wheels enable 360° mobility, allowing you to effortlessly move the shield wherever it is needed. Whether you require a temporary security solution for events or a permanent fixture for high-risk areas, the Mobile Safe Shield offers the flexibility to adapt to any situation.
View the ballistic Mobile Safe Shield HERE
View the ballistic Mobile Safe Shield's maneuverability HERE